DISCONTINUED SPA - no longer available. This hot tub no longer being produced. See the same size spa in an acrylic version here: MYSTIC Spa
The glacier white Navigator is a plug and play spa that operates at 120 volts with your standard household plug (15-amps). The GFCI protected power cord is included with this 4 person spa. With 10 hydrotherapy jets powered by a hi-flow energy saving spa pump, this spa seats up to 4 persons.
Enjoy relaxing evenings at home with the Navigator spa. Perfect for smaller homes or spaces, this 4 person spa is energy efficient and offers superior comfort at an affordable price.
Free Shipping in the continental U.S.A.
The Econo-Boost energy recovery system recovers the heat generated by the spa pump motor and returns this valuable energy to the spa to help heat the water.
QCA Spas require far less energy than any other spa in its class and far exceeds the California Energy Compliance mandate. This spa shell is manufactured with Future X thermo-formed polyethylene. This indestructible spa shell is textured for a comfortable feel and is slip resistant.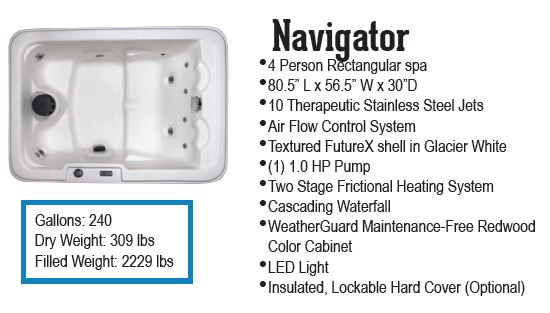 Easy To Install
Enjoy your plug and play Navigator spa model inside or outdoors.
There are 2 comfortable bucket seats with arm rests built into the spa form.
Set up is easy with no need for special plumbing or electrical wiring.
Just plug your spa into a dedicated 120V/15A wall power outlet and add water with a garden hose!
A 15 ft. long GFCI protected power cord is included with the Navigator spa and pre-mounted so just plug and play!
Quality Components
From a WeatherGuard™ maintenance free cabinet with reversible, easy to remove panels to an energy efficient spa pump with an air flow control system that adds air to the jets for an improved massage experience, the components that go into the Navigator are top notch.
The Future X thermoformed polyethylene shell is an indestructible spa shell that is textured for a comfortable feel and slip resistance in Glacier White. Maintenance is easy with automatic filter cycles, heating and automatic freeze protection.
Total Control
Operation the spa from the top side electronic controls. The digital electronic topside control offers ultimate reliability and ease of use. A four-button Soft Touch™ control for pump, temperature, and light. The Soft Touch™ pad also features LED temperature diagnostic read-outs.
The Energy Saver System allows heat generated by the action of the pump and motor to heat your spa. This recycled heat is not vented away as in other spas, but contained in the dead air space of the cabinet to assist in warming the spa's shell and water. This saves valuable resources and money and makes the Navigator an energy efficient spa.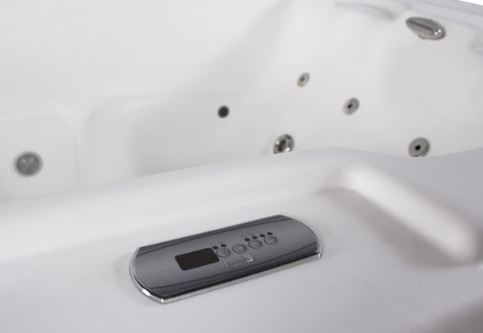 The Navigator Spa Includes:
Capacity: 4 Person Rectangular Spa
Dimensions: 80.5" L x 56.5" W x 30" D
Gallons: 300 U.S. •Volts/Amps:120V/15A with 15' GFCI protected cord included
Color: Glacier White
Jets: 10 •(2) lower back adjustable vortex jets •(2) mid back pressure jets •(2) lower back adjustable vortex jets (bench seat) •(4) upper back pressure jets (bench seat)
Pump(s): (1) 1.0 HP Hi-Flow Pump: •Quiet operating, low cost circulation speed
Shell: Future X thermoformed polyethylene shell
COVER: brown hard cover (4"-2") included
Cabinet: WeatherGuard™ Maintenance-Free Cabinet
Efficiency: Includes Heat Recovery System & Exceeds California Energy Compliance Mandate
Controls: Digital Electronic Topside Control
Filter: Built-in filter •Features: •Air Flow Control System
Cascading Waterfall •Ozone-Ready
12 Volt Standard Light
Safety: ETL & CE Listed
Manufactured: Made in the U.S.A.
Covered by Manufacturer's Warranty - QCA Spas
Save