Hot Tub Time! The QCA Spas Orion model is a 5 person lounger spa in Glacier White. This is a plug and play spa that plugs right into your 120v/15 amp power outlet, no need for expensive 230 volt installation.
Special Pricing in Effect Now!
Just fill with a garden hose, plug in and enjoy.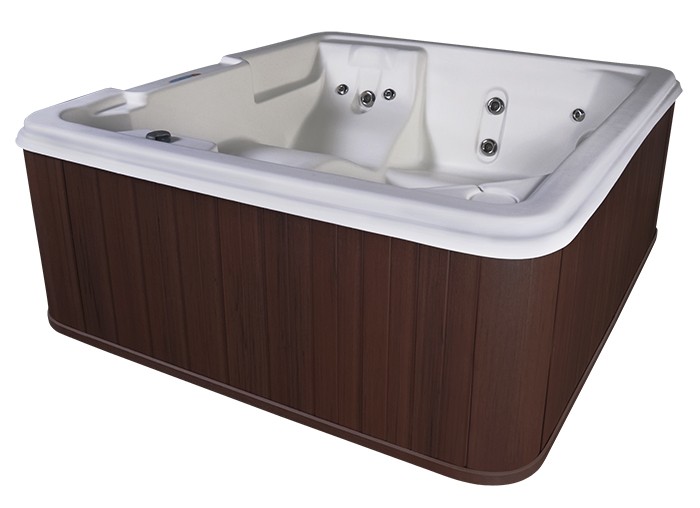 Econo-boost heat recovery system sends the heat generated by the equipment and pump back to the water to help heat the spa. Features a quiet 1HP pump to provide a relaxing massage through th3 30 jets.
The spa shell is textured and comfortable and it is slip resistant as well.
The cabinet side panels are reversible in the case one should ever become damaged or scratched.
Hot tubs don't have to be expensive. This is an entry level spa with 30 jets including a 14 nozzle turbo jet.
Orion Hot Tub Features:

Capacity: 5 Person Lounger Spa
Dimensions: 80" L x 74" W x 30" D
Gallons: 300 U.S.
Volts/Amps:120V/15A with 15' GFCI protected cord included
Jets: 30 (Includes 14 Jet Turbo Massage)

(1) Massive 14 nozzle turbo massage jet (7.375")
(10) Lower and mid back adjustable vortex massage jets
(4) Large adjustable vortex jets
(1) Large adjustable rotational jets
(1) Fixed euro pressure/ozone jet

Pump(s): (1) 1.0 HP Hi-Flow Pump:

Quiet operating, low cost circulation speed

Shell: Future X thermoformed polyethylene shell
Cabinet: WeatherGuard™ Maintenance-Free Cabinet
Efficiency: Includes Heat Recovery System & Exceeds California Energy Compliance Mandate
Controls: Digital Electronic Topside Control
Filter: Built-in filter
Features:

Air Flow Control System
Cascading Waterfall
Ozone-Ready
12 Volt Standard Light

Safety: ETL & CE Listed
Manufactured: Made in the U.S.A.
Warranty: 1 Year Parts & 90 Days Labor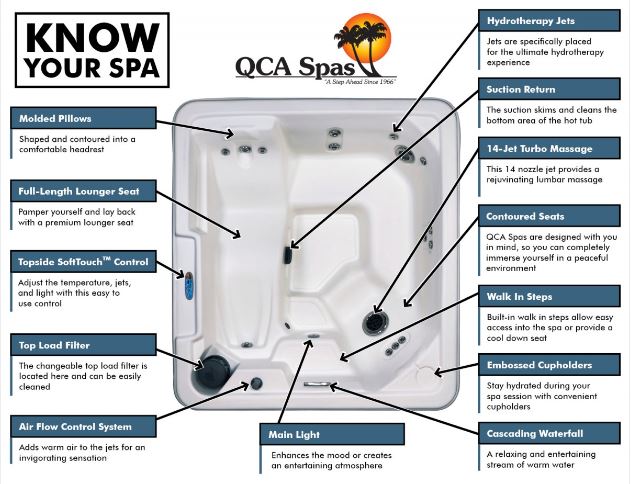 This spa has lower acquisition and setup costs because it is plug and play ready and comes with a 15 foot GFCI protected power cord.
The Future X thermoformed polyethylene shell material is virtually indestructible and slip resistant. This spa is only available in the color Glacier White.
Spa electronics include automatic filter cycles, heating system and freeze protection.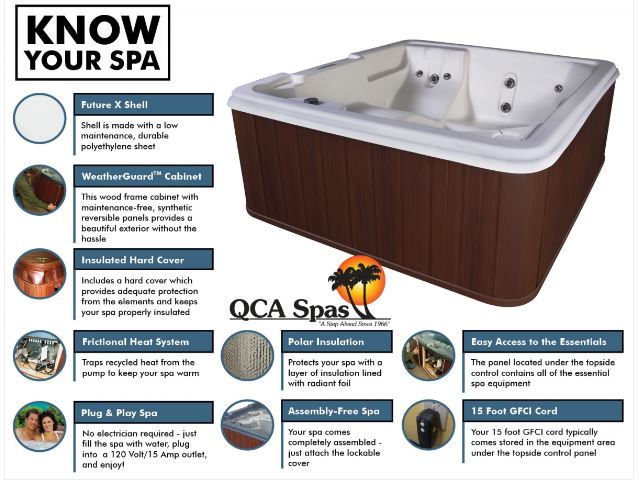 The 4 button control panel provides access to all of the spa's features.
Options for this spa include a factory installed ozonator to help reduce the amount of chemicals needed to maintain your spa. You can also upgrade the lighting from a standard white light to LED lighting.
Questions
What's the difference between this Orion spa and the Stargazer spa?
A: Some of the main differences are installed jets/equipment but more importantly that this is a thermoplastic material where the Stargazer shell is made of Acrylic. Also this has a frictional heating system where the Stargazer has a dedicated 1kw heater at 120v (and Stargazer can convert to 230v operation so the heater then becomes 4kw).
Enjoy your plug and play Orion hot tub by QCA from Hot Tub Outpost. Factory direct, free shipping from your number 1 QCA Spa online distributor/supplier.
Save