Balboa Vico Pumps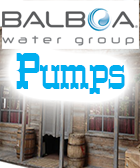 Balboa spa pumps and Vico pumps in both 1-speed and 2-speed versions, 120v or 230v and 48 frame or 56 frame are in this Balboa/Vico pump section.
See Vico, Pentair, Ultimax and other Balboa brand pumps here.
Also see our affordable Century pumps and LX pumps as possible replacements.