Genesis Bath Pump 115V 321FF10-0150 5.5A AS has 1 1/2 inch plumbing connections (for 1 1/2 inch inner diameter hose/pipe).
comes with rubber pads.
Waterway Genesis Generation Energy Efficient Bath Pump 115 Volts w/Air Switch

Spa Pump Features:
Center Discharge
1-1/2" intake and discharge
3' NEMA power cord
Single Speed, 3450 RPM, 60 hz
Dimensions: (H x W x L) 7-1/4" x 5-3/8" x 12-1/2"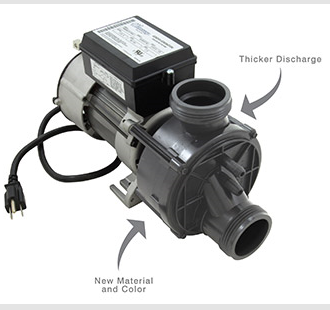 Tech note: There are two barbed fittings on the face of the pump for small lines, these come from the factory plugged. If needed, they can be drilled out easily
Waterway has made improvements to the Genesis Bath Pump:
The discharge wall thickness of the volute has been made thicker to allow for greater consistencies in the molding process and to increase strength.
Changed to a new highly engineered glass reinforced co-polymer material. This new material will be made in gray so that it is easily distinguishable from the older material. (This is the same material being used in our high-end pool pumps and filters).
Included items in addition to the pump with NEMA power cord: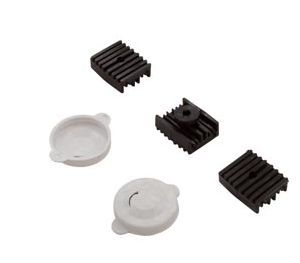 Other parts available separately include:
1 1/2 inch pump union 0602-15
Lo Profile Union Tee 601103