Hot tubs come with several options just like cars.
For budget hot tubs, there are less available options and for mid-range and deluxe hot tubs there are somewhat more.
Here are the options you may find on this site for your particular hot tub.
Please allow about 3 weeks for the production of any custom hot tub. You can select all your shell, cabinet colors and options and then have the spa delivered curbside in about 4 weeks from the time you order.
Ask us about our Quick Ship plug and play 120 volt spas that may be in stock in limited color selection. All plug and play spas are produced with an ozonator installed.
In stock spas can ship out in about 2-3 days and are delivered curbside by common carrier.
Shell Color:

Entry Level Spas are available in 2 or 3 colors: blue denim, silver marble and sometimes sierra.
Blue denim and sierra are Quarite colors that are textured whereas silver marble is a smooth marble color with a smooth surface.
Deluxe Spas are available in the above 3 colors plus 3 deluxe color options: Malibu Surf Blue, Tuscan Sun and Storm Clouds Gray. Choice of any of these 3 premium colors is available for an additional charge.
Cabinet Color: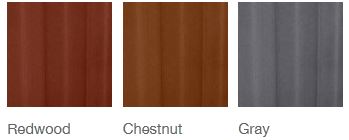 Select from the 3 maintenance free cabinet color options: redwood color, coastal gray color or chestnut color synthetic cabinet. The redwood cabinet color is standard. Upgrade to gray or chestnut for an additional cost. If you choose a gray cabinet, you will also want to choose a matching gray cover. Chestnut cabinets still ship with a teak/brown cover.

Spa Cover:
All of our spas come standard with a 4"-2" hard cover. Choice of cover color is either redwood/teak or coastal gray.
Thicker 5"-3" Premium covers are available for colder climates at a discounted upcharge when ordered together with a spa.
The first number in the pair is the thickness of the cover at the center and the second number is the thickness of the cover on the edge. This is known as a "tapered" cover and is the only type of cover recommended for an outdoor hot tub.
Having a sloped cover allows rainwater and melting snow and ice to drain off of the cover rather than pool on top of the cover. Cheaper spas come with flat covers which quickly form pits from standing water and do not last as long as tapered covers for outdoor use. Select from standard cover or the extra thick cover for colder climates. The 5" thick cover is somewhat heavier than the 4" so you may also want to consider an optional cover lifter, especially for larger spas.
Our covers feature:
4 Tie-Down Safety Straps with Cover Locks
Reinforced Galvanized Channeling for Support
Two Steam Stoppers for Energy Savings
Two Double-Stitched Handles on Each Side
Top Stitched Cover for Extra Strength and Durability
Marine Grade Vinyl
Jet Style:
The standard luxurious spa jets are graphite gray. You can upgrade to stainless steel style jets on many QCA Spas.
Ozonator / Bromine Salt System: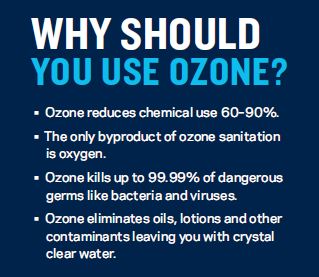 Add a factory installed ozonator for $220 and allow the ozonator to assist in maintaining your spa. Use less chlorine or bromine sanitizer when using an ozonator.
The bromine salt system turns your hot tub into a salt water spa.
Add sodium bromide to the water (available from Hot Tub Outpost) and the spa creates the bromine sanitizer from the salt added, then recycles the bromine back into salt so you don't have to run to the store for sanitizer.
Why should you use either an ozonator or a bromine salt system? To help reduce the amount of sanitizer that manually needs to be added.
LED Lighting:

Add LED lighting to your spa and create the perfect mood.
The LED Light Bulb replaces the standard white light bulb and adds color to your spa experience easily. For more color, add package M perimeter lighting for 10 points of light around the top edge of the spa. For underwater jet lighting as well as cabinet down-lighting, add the deluxe package A full LED lighting system. All LED lighting packages include the LED light bulb as the main light instead of standard white light bulb.
Not all lighting packages are available for all models. LED light bulbs are available for all models to replace the standard white light.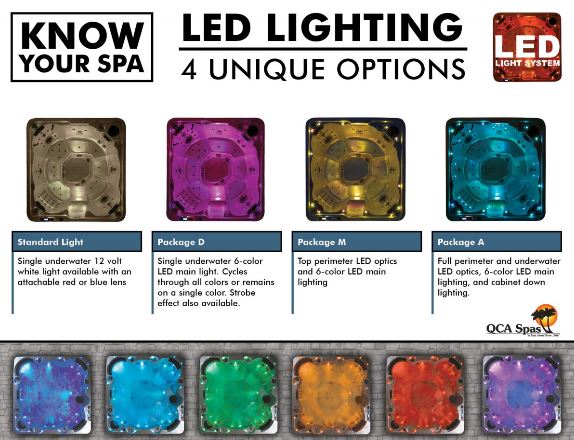 Not all lighting packages are available on all spas, however, these are the 3 LED lighting package upgrades:
LED –A Package: This is the ultimate in illumination for your hot tub. This complete package includes underwater LED lighting, perimeter cabinet lighting as well as the main LED light. Enjoy colorful LED lights inside and outside of the pool that you can control with the touch of a button.
LED -M Package: This package features perimeter LED lights and the main underwater LED light.
LED –D Light: Replace your white underwater light with this LED bulb for color changing fun to suit your moods. The bulb offers 12 Starburst light points.
Sound System: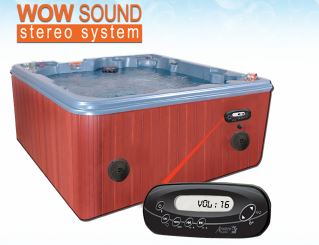 Add music and sound to the ambience in your spa. The WOW sound system is made up of 2 speakers along with the music source dock. The Vibrasound system includes 4 transducers built right into the spa shell to turn the whole spa into the source of music. Includes a subwoofer and Ipod dock as well.
Extended Warranty:
Extend the original factory warranty by another 2 or 3 years depending on your preference. Note that the extended warranty is a parts-only warranty and does not include service labor. The warranty does cover all warrantable components in the spa including spa pack, pumps, ozonator, circuit boards, controls, jets and plumbing parts. Wear and tear items such as pillows are excluded from the warranty. Request full details by email.
Other Hot Tub Accessories:
Browse our site for additional accessories you may be interested in such as a cover lifter, spa steps, chemical starter package or other spa supplies.
See our full range of QCA Spas hot tubs here.
- The Hot Tub Outpost -