ON SALE NOW! Free shipping in the continental USA! Ships within 24 hours (weekdays).
AMP Cord included: Includes a 4 pin AMP cord, or disconnect this cord and use your own.
Unions included: 2 pump unions with o-rings are also included free with this pump in case they are needed.
LX 4HP 2-speed pump 56WUA400-II is a 4HP, 2-speed, 230 volt spa pump with 2 inch side discharge (out top) and center suction plumbing connections for 2 inch inner diameter hose/pipe (actual union size is closer to 3 inches if measuring across the threads)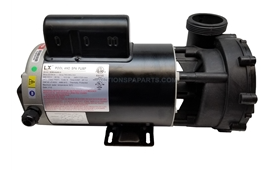 4HP LX 2-speed 230V pump - this model has the pump based for bolting to floor. We also offer the 56WUA400-II-BL for the baseless version, but it is much easier to mount this pump since it already has a base/feet!
Specifications:
Frame size: 56 Frame
Voltage: 230V
Amperage: 12.0 / 4.4 (hi speed/low speed amps)
Horsepower: 4.0 HP
Speeds: 2
Intake: 2" center suction
Discharge: 2" Side Discharge
Pump base included (no bracket needed) - comes with feet!

2 inch refers to inner diameter of the plumbing. The actual unions are larger.
Pump, LX 56WUA, Large Frame, 4.0HP, 230V, with amp rating of 12.0 amps on high speed /4.4A amps on low speed, 2-Speed, 2" MBT connections, SD.
Wet end on this pump can be rotated in 90 degree increments to line up with plumbing.
Free Shipping! This in-stock spa pump usually ships out same business day!
56WUA400-II-2SPD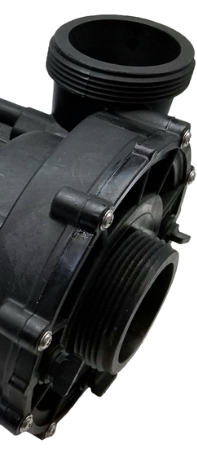 The wet end on this pump has 2 inch plumbing connections with a side discharge and center suction.
Connect 2 inch unions to this LX pump and enjoy a powerful, reliable and even quieter massage than the 48 frame pumps.
Wet end can be rotated in 90 degree increments to line up with existing plumbing.
Replaces Jacuzzi and Sundance Spa pumps 6500-367 (2.5HP, 240V, 2-speed,56 frame)
No tax, except TX. Free shipping in the continental USA.
Need a barb adapter for the wet end to connect a hose? See 672-4350.
We also offer the little drain plug orings if needed 805-0112
56wua400-ii is a great replacement for select AquaFlo XP2 and XP2e pumps.