This generic pump is no longer available - see the Jacuzzi pump 6500-367 for a replacement with no base/no feet that uses the bracket. Or get the lower cost pump that has feet so the pump mounts to the base of the spa instead of using a bracket.
LX 4HP 2-speed pump 56WUA400-II-BL Baseless version with no base. We also offer this 4HP 2-speed 230v pump with a base which is easier for mounting, and lower cost too! See 56WUA400-II .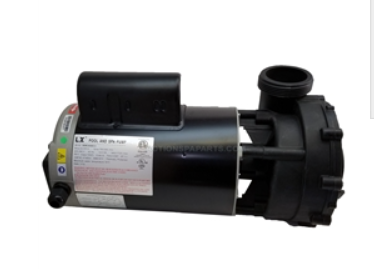 This version of the LX pump 56 frame has no base.
Specifications:
Frame: 56
Voltage: 230V
Amperage: 12.0/4.4
Horsepower: 4.0
Speeds:1
Intake: 2"
Discharge: 2" Side Discharge
Baseless - no bottom base

Need a mounting bracket? See 6000-535.
2 inch refers to inner diameter of the plumbing. The actual unions are larger.
Pump, 56WUA400-II-BL 4.0HP, 230V, with amp rating of 12.0 amps on high speed /4.4A amps on low speed, 2-Speed, 2" MBT connections, SD.
Wet end on this pump can be rotated in 90 degree increments to line up with plumbing.
Free Shipping!
56WUA400-II-BL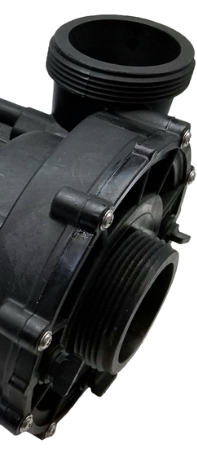 The wet end on this pump has 2 inch plumbing connections with a side discharge and center suction.
Connect 2 inch unions to this LX pump and enjoy a powerful, reliable and even quieter massage than the 48 frame pumps.
Wet end can be rotated in 90 degree increments to line up with existing plumbing.