Hot tubs are known for their ability to reduce stress through hydro massage and soothing, warm water.Whether you enjoy your spa with friends and family, or alone to unwind after a long day, relaxing in a hot tub is one of life's healthy pleasures.
A way to engage another of your senses is to add aromatherapy fragrance to your spa experience.
There are many variations of hot tub fragrances on the market, so you can find the perfect scent - or several - that adds to your spa experience.Fragrance products that are specially formulated for hot tubs will protect your expensive equipment, as they do not contain oils or foam up - keeping the plumbing clear.
They are formulated to be non-toxic, water soluble, and will not offset the pH or chemical balance of your spa. Many of the products have skin softeners as well, so you will feel silky smooth when your session is done.
When you add scents, it is generally just lasts for one session - and will fade after 20 minutes or so.This means you can try using a different fragrance each time.
Some spas come with aromatherapy canisters, so those scent pouches last longer.
There are several brands and types of products available.We give you a run down on your hot tub fragrance options:
Insparation Spa Fragrances
InSPAration is one of the best known brands of spa fragrances.
They sell liquids, crystals and rubber ducky dispensers.The liquids come in mini pouches (good for 1 use each) or in 9 ounce bottles (which you can also buy in a multi 6 pack).Enjoy exotic fragrances like Jasmine, Coconut Lime Verbena, Eucalyptus Mint, Rain, Tranquility, Polynesian, Tropical Island, Sugar Cookie, Mochacino and Designer B.
InSPAration Spa Pearls are scented crystals that come in 5 ounce bottles and have enhanced extracts, Epsom salts, Solar Sea Salts, vitamins and minerals.
These come in 12 fragrances including the popular SpaBerry, Tropical Island, Lavender, Hawaiian Sunset, Coconut Mango and Cucumber Melon.There are also 1.5 ounce tubes, which are trial sizes, so you can discover which fragrance you like best before you commit to the larger bottles.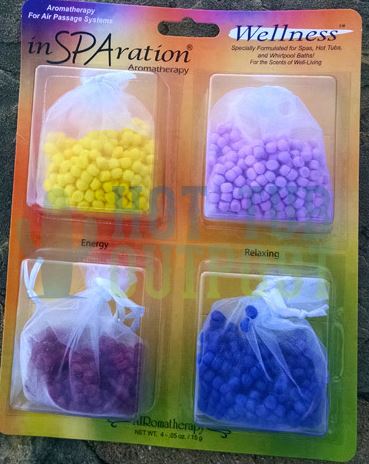 InSPAration also makes AIRomatherapy Beads which are 5 ounce netted beads to fit in aromatherapy canisters specially made for some spa manufacturers.
These dry, scented bead pouches go into the pre-plumbed canister, which is activated by the spa blower to release the aroma into the water and up into the air.
There are 4 scents available, including: lavender which is said to calm stress and anxiety; Chamomile which counters inflammation; Sage which boosts moods, mental strength and digestive strength and Peppermint Eucalyptus, may help treat respiratory issues.
The dry beads require a pre-plumbed aromatherapy canister that is in-line with the air blower of the spa. Activating the blower introduces the fragrance into the air injectors within the spa.
Try the 4-pack of insparation dry bead pouches in your aromatherapy system.
You can also use regular crystals or liquids in almost any spa with or without an aromatherapy canister.
Spazazz Fragrance Line
Spazazz is another manufacturer that makes hot tub fragrances, which come in a 9 ounce liquid and 17 or 22 ounce crystal sizes.
Scents include Grapefruit Orange, Coconut Vanilla, Eucalyptus Mint, Fiji Apple, Kiwi Pear, Honey Mango, Lavender, Paradise Fruit, Pina Colada, Pomegranate and Green Tea Peony.
Spazazz also offers an RX Therapy fragrance line including sport therapy, energy therapy, stress therapy, detox therapy, muscular therapy, respiratory therapy and joint therapy.These come in a 7 x 4 ounce sampler set or 19 ounce bottles.
We suggest you try the sample packs at first. in liquid or crystal form, to discover the fragrances you like best.It makes every spa session fun when you add the extra element of aromatherapy.A bonus is - you can use these same spa fragrances in your bathtub - for silky smooth, lightly scented skin. Perfect!
Hot Tub Outpost carries all of these spa fragrances plus a full line of spa chemicals and mineral sticks. Order all your water maintenance supplies at once to take advantage of our free shipping for orders over $95.
We love adding aromatherapy to our hot tub & think you will too.