WOW: SALE ON NOW - Don't settle for old-production models, this is the brand new version of this deluxe 2 person Silver Star spa.

FREE SHIPPINGE
QUICK SHIP MODEL NOTE: If you want the spa that ships in 2-4 days, select Silver Marble shell, Gray cabinet and add the LED light and ozonator option as the quick ship models are packaged with these items.
Best price on Silver Star 2 person hot tub with 1kw heater and spa cover for a limited time! This 2 person spa with gray hard cover is on sale with the best price on a 2 person QCA Spas Silver Star spa.

BONUS: Hard cover (lockable) and Stainless Steel jet upgrade included!!! Free shipping too!

FREE LED Light and FREE Ozonator. Do not select to upgrade these items as they are included during this promotion as long as these words are on this page..
Contact us with any questions.
Another bonus: No sales tax (except for Texas residents)!
Here is a video review that also includes filling the spa and product details.
"I purchased this self contained 2 person hot tub from hottuboutpost.com and set it up in my bedroom."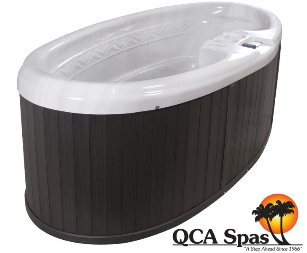 Don't settle for imitations or corner cutting by some retailers such as slipping you a soft cover instead of providing the proper hard cover. Some will slip you standard gray jets when you can get free upgrade to stainless steel with this model.
Free standard Gray Cabinet and Gray Hard Cover with the Quick Ship Version (2-7 days).
But this Silver Star model is also available in redwood color with a wait time of about 3 weeks nB: not the cheaper soft, flex cover some outfits will try to include instead - this is a real 4-2 tapered hard cover with lockable safety straps.

Free stainless steel jet upgrade. (If you want graphite gray instead, just write "graphite" in the comment box at checkout (production time appx 3 weeks). Otherwise your Silver Star will be outfitted with the upgraded stainless steel spa jets at no additional cost.)
The Silver Star 2 person hot tub is a white oval-shaped spa with a 1kW heater that is perfect for 2 people or relaxing solo. This spa is a "Plug & Play" type hot tub that plugs into a standard 120 volt/15 amp power outlet. Comes with the GFCI protected power cord included.
Just fill with a garden hose, relax and enjoy the 16 targeted spa jets that help relieve sore muscles.
This oval spa is delivered in the silver marble color (or choose blue denim) and includes a 1kw heater that will warm the water up to 104° F.
This spa exceeds the California Energy Compliance mandate and features an Econo-Boost heat recovery system.
The heat generated by the pump and motor is captured and reused by the system rather than vented away like in other spas. Unlike the Dream Star Model, this Silver Star has a built-in 1kw heater that operates at 120 volts.
QCA Spas hot tubs have been built in Iowa, USA for decades as QCA is one of the oldest hot tub manufacturers in the world (since 1966).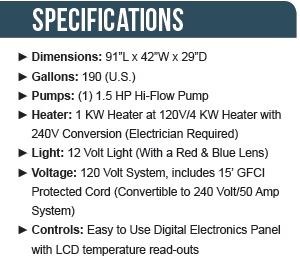 The Silver Star spa features a quiet 1.5 HP pump with a 1 KW heater included.
The spa shell is manufactured with ABS-backed Lucite-Xtra Acrylic and a 4 layer strengthening process called Dura-Bond. Standard color: silver marble.
The cabinet is constructed of synthetic panels that require no maintenance.
The cabinet panels are reversible so if one side gets scratched or scuffed over time, simply turn it over and place it back into the cabinet.
It is also easy to access the components of this spa at any time with easy access panels.
A 15 ft. GFCI protected power cord is included with this spa. Two button Soft Touch™ control operates the pump and controls the temperature. The Soft Touch™ pad also features LED temperature diagnostic read-out.
Silver Star Spa Includes:

Capacity: 2 Person Oval Spa
Dimensions: 91" L x 42" W x 29" D
Interior Seat Width: 19 1/2" wide
Gallons: 190 U.S.
Volts/Amps: 120V/15A with 15' GFCI protected cord included
Heater: 1 KW
Jets: 16

(2) Mid back pressure jets
(10) Upper back pressure jets
(2) Lower back adjustable vortex jets
(2) Adjustable vortex foot jets
ALL JETS STAINLESS STEEL- free upgrade included, no need to pay extra for stainless steel jets on Silver Star. If you don't want the free upgrade, just write:"standard jets" in comment box when ordering.

Pump(s): (1) 1.5 HP Continuous Duty Pump:

Quiet operating, low cost circulation speed

Shell: Lucite-Xtra™ Acrylic with Dura-Bond™ four layer strengthening process
Cabinet: WeatherGuard™ Maintenance-Free Cabinet
Efficiency: Includes Heat Recovery System & Exceeds California Energy Compliance Mandate
Added foil insulation included
Controls: Digital Electronic Topside Control - IN.K200 system
Cover: 4"-2" Hard Cover included (redwood color)
Filter: Built-in filter and inline chemical feeder
Ozone Ready: add an ozonator as an option
Standard white light - add an LED light for colored lighting as an option
Features:

Air Flow Control System
Ozone-Ready

Safety: ETL & CE Listed
Manufactured: Made in the U.S.A.
Warranty: 1 Year Parts & 90 Days Labor - download copy of factory warranty (.pdf)
Complete with Owners Manual - download Dream Series/Silver Star owners manual (.pdf)
FAQ: Silver Star 2 Person Hot Tub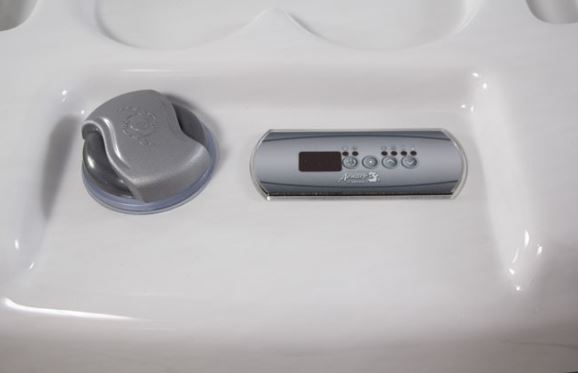 Q?: What is the difference between the Dream Star and the Silver Star?

A: Silver Star is silver marble color (or blue denim) with 16 jets and has a built-in 1kw heater. Dream Star is blue denim (standard color) with 8 jets and heats the spa through motor friction without a dedicated electric heater. Dream Star does not come standard with a light, but can be upgraded to LED. Silver star includes a standard white light that can be upgraded to LED.
No reason to travel to Palermo, Sicily, Cordoba or Venice Italy when you can have your very own beautifully appointed two person hot tub right on your own deck or patio.
Special sale price in effect for a limited time on Silver Star when purchased from Hot Tub Outpost.

Q? What kind of cover comes with the spa?

A: A free upgraded hard cover instead of the standard soft flex cover is included with this spa.

Q? What are some of the touch button operations possible with this control system?

A: Press button 1 to turn Pump 1 on at low speed. Press the button a second time to turn pump to high speed (with a dual-speed pump, if included in your spa). Pressing a third time turns pump off (second time for a one speed pump.)
A built-in timer automatically turns pump off after a predetermined period of time, unless pump has been manually deactivated first. The "Pump 1" indicator lights up when Pump 1 is on. With dual-speed pump, indicator will flash when Pump 1 is on at low speed.
Press Light key to turn the light on. Press the control panel button a second time to turn light off. A built-in timer automatically turns light off after 2 hours, unless it has been manually deactivated first.
The "Light" indicator lights up when light is on. Choose the standard white light bulb or upgrade to a colorful LED light bulb when ordering the spa as an option or retrofit the bulb anytime later. This 12 volt LED light bulb plugs into the same receptacle as the standard white light.
Use Up or Down key to set the desired water temperature. The temperature setting will be displayed for 5 seconds to confirm your new selection. The "Set Point" icon indicates that the display shows the desired temperature, NOT the current water temperature!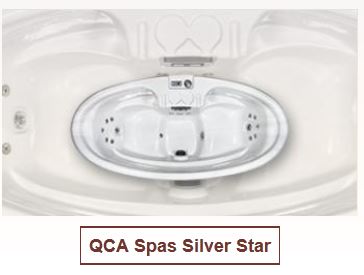 The Off Mode allows you to stop all outputs for 30 minutes to perform quick spa maintenance such as cleaning the filter.
Press and hold button 1 for 5 seconds to activate the Off mode. Quick press Button 1 to reactivate the system before the expiration of the 30-minute time delay. While the Off mode is active, the display will toggle between OFF and the current water temperature.
Set the display units to F or C.
°F = Fahrenheit or °C = Celsius

Water Temperature Regulation
If your spa includes a heater, after verifying pump activation and taking a water temperature reading if required, the system automatically turns the heater on to reach and maintain water temperature at Set Point. The "Heater" indicator lights up when the heater is on. It flashes when there is a request for more heat but the heater has not yet started.
Smart Winter Mode: The QCA Smart Winter Mode protects your system from the cold by turning pumps on several times a day to prevent water from freezing in pipes. The "Smart Winter Mode" indicator lights up when the Smart Winter Mode is on. These deluxe features are available on this QCA Spas silver star model.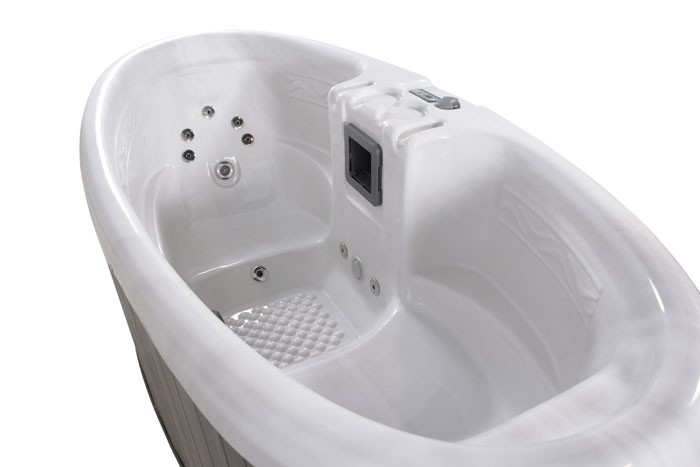 Enjoy a Silver Star in your home today! Hot Tub Outpost is your official QCA Spas online distributor for factory direct hot tubs with FREE SHIPPING in the continental U.S.A.
The silver star is also available in blue denim color, although it really wouldn't be a "silver star" unless it was made in silver marble, but you can select the alternate color above.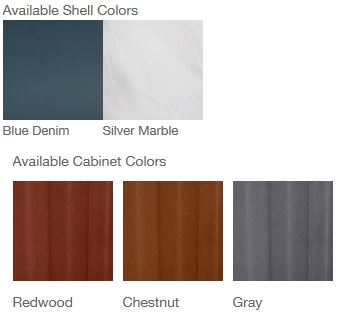 Blue denim has been discontinued- this spa only available in Silver Marble.
Silver Star Sale - 2 person hot tub from Hot Tub Outpost USA - your number 1 online hot tub, parts and accessories direct distributor!
Silver Star may be in stock if you need one fast. The stock configuration is: silver marble with gray cabinet, matching gray cover and ozonator installed. (Ozone generator is an optional upgrade ). If you want the Quick Ship Model, you will need to purchase the LED light option and ozonator as they are packed up and ready to ship. Otherwise any configuration can be ordered with a 3 week lead time.
The ozonator helps reduce the amount of chemicals needed to maintain the spa.
Contact us for availability on this Quick Ship model if you like the color combination and outfitting - otherwise, please allow 2-3 weeks for production and a few days for factory direct shipping..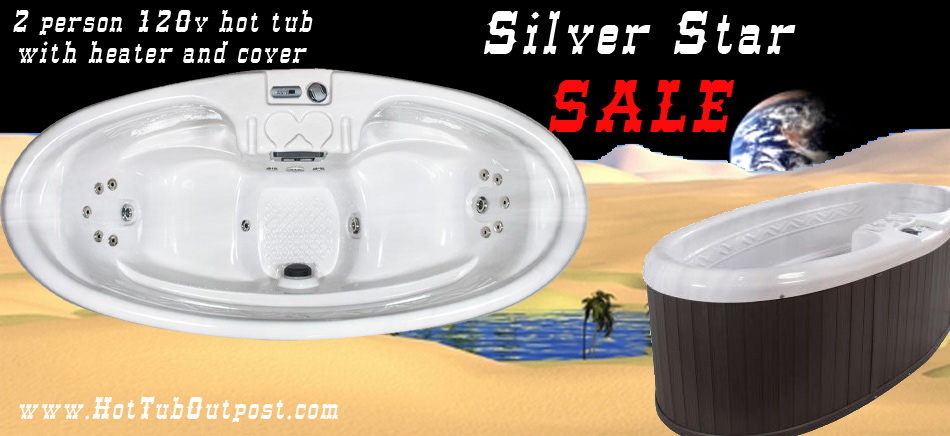 Note that this spa can also be operated at 220v-230v. In that case, the heater becomes a 4kW heater. You would need an electrician to install the 220v line along with an external GFCI box for 220 volt operation.
Operating the spa at 220v requires change in configuration, but no additional equipment is necessary. You cannot use the included 110v GFCI cord (15a) if installing this spa to run on 220v.
Get this complete Silver Star spa with heater and hard cover and Free Shipping too (within the continental U.S.A).