Dream Series Star Gazer Spa
SPECIAL OFFER: FREE OZONATOR included with spa.
Special Price: Limited Time Sale. Free shipping in the U.S.A.! Comes with Hard Cover and Filter included!
Stargazer - From ordering to ownership
One of the best remaining hot tub deals on the entire internet. This 5 person spa is an amazing deal and comes with Free Hard Cover upgrade and includes free shipping! Only at Hot Tub Outpost.
Start as a simple-to-install 120v plug and play spa that comes with its own GFCI protected power cord. Just plug in, fill and enjoy! That gets you 1kw worth of heat - great for most applications.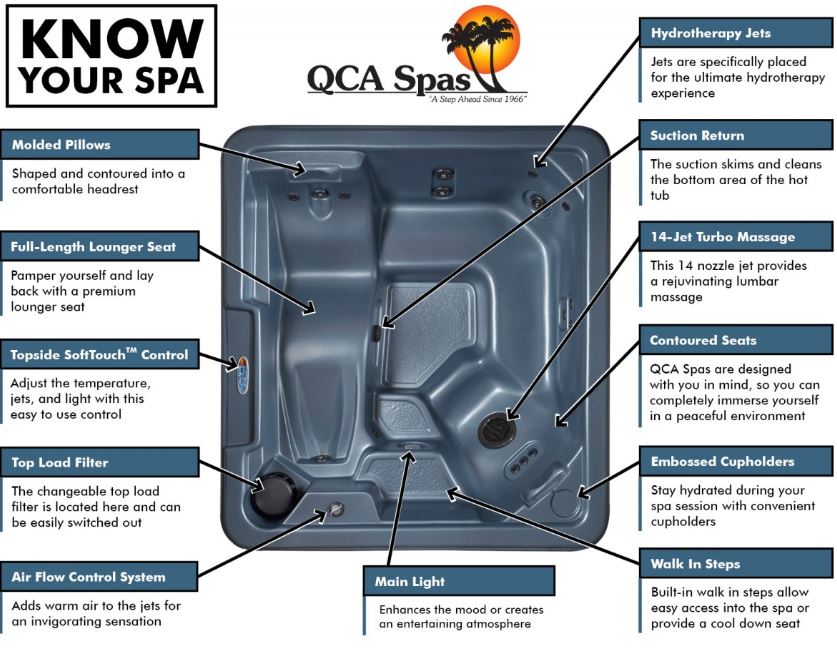 Need more heating power? Simply convert to 230v. Your electrician will then have to install the 230v power line and GFCI according to your local electrical code, but then you get 4kw worth of heating by simply changing out a wire and flipping a switch on the circuit board on this convertible spa. No additional parts needed for converting to 220v operation. See details on how to convert from 120v to 230v spa for this plug and play model.
So what have you got to lose? Why spend 10 grand on a hot tub, when you can enjoy hydrotherapy in this easy to own Star Gazer.
Customize it any way you like. Please allow about 3 weeks for production and 3-6 days for shipping. Need it faster? Contact us for current stock units (where you don't get to customize it, it's already wrapped). Best is to customize by selecting your own color and options as you like them above. Your spa will ship factory direct to you. They come standing tall on a pallet, factory wrapped and banded. The spa will be delivered curbside, so you will need a few able bodied helpers to move the 400 lb. spa to where you would like it.
Since it is plug and play, you can always move to somewhere else and plug it into a different power outlet.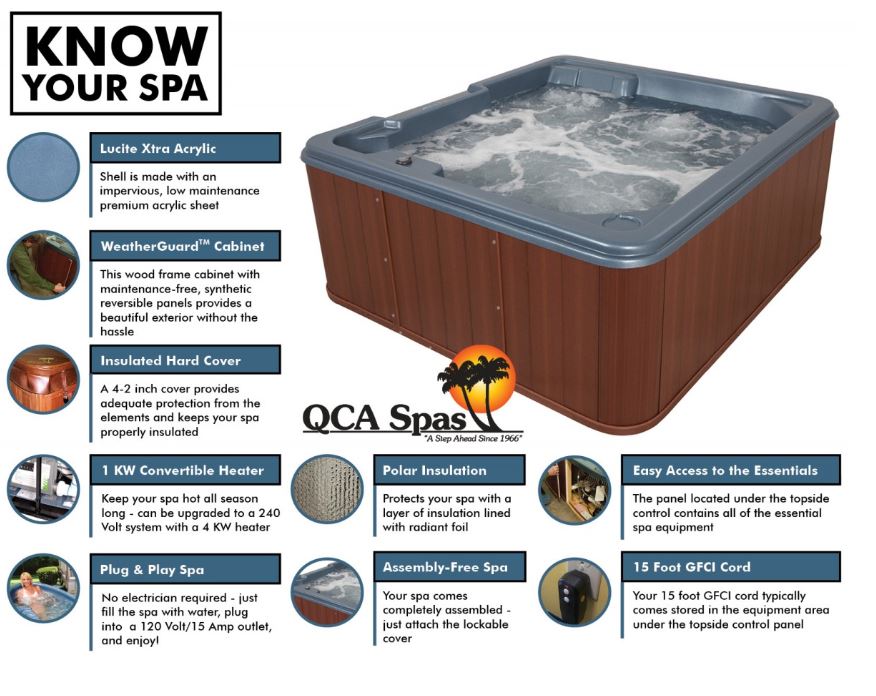 Spa no longer available in blue denim. New, standard color is sierra.
Star Gazer 5 person hot tub model features 30 hydrotherapy jets and a lounger.
Best Price of the Year on Stargazer hot tub! Sale on now.
Enjoy the stars and open air every season from your Star Gazer spa. Imagine nights spent relaxing with friends and family, immersed in the soothing warm waters of your own hot tub. Cleverly designed with room for up to 5 people, the Star Gazer is the perfect escape you can enjoy every day.
This is one of the largest plug and play spas – so you will also save money with no special installation required.
Simply choose a spot indoors or outdoors and plug the Star Gazer into a dedicated 120V/15A wall outlet.
Then fill with water from a garden hose, let heat and enjoy! This spa can also be converted to a 240V/50 Amp spa with a 4 KW heater if you are looking for more power.
Enjoy the hydrotherapy benefits of the powerful Hi Flow pump and 30 strategically placed massage jets - including the incredible 14 nozzle turbo massage jet.
The jets are powered by a 2-speed MBHP hi-flow pump with an adjustable air flow control system.

Relax in the molded lounger or the multi-level seating.
Comfortable seating, walk in steps and even a molded drink holder are just some of the great features of this popular spa.
The Star Gazer offers superior comfort at an affordable price and features automatic freeze protection, automatic heating systems and filter cycles.

This value packed spa offers a Silver Marble Lucite Acrylic shell featuring Microban protection. The innovative built-in technology continuously fights bacteria and germs to keep your spa cleaner. The top load clean water filter system reduces spa maintenance and helps keep your water sparkling clean. The LED Soft Touch Balboa topside controls put you in charge of temperature, power, and filter cycles. The spa features a Dura-Bond 4 layer strengthening system for superior shell strength.
Save money and natural resources with the QCA heat recovery system*. This Green technology reuses the heat generated by the pump and motor and traps it inside the cabinet to warm the water. A lockable flex cover is also included to help maintain heat while keeping the spa safely enclosed. Save even more with FREE SHIPPING anywhere in the continental U.S.A.!

Choose from blue denim or silver marble color (select color in the order box above).
Capacity: 5-Person Lounger Spa
Dimensions: 80" L x 74" W x 30" D
Gallons: 300 U.S.
Shell: Lucite-Xtra™ Acrylic with Dura-Bond 4 layer strengthening process and Microban protection. Standard color is sierra.
Power: 120V/15A with 15 foot GFCI protected cord
Jets: (30) Two-toned graphite gray jets included:

(1) Massive 14 nozzle Turbo Massage jet (7.375")
(10) Lower and mid back adjustable / vortex / mini massage jets strategically placed in the recliner and bench seating for maximum benefits
(4) Large adjustable vortex jets
(1) Large adjustable rotational jet
(1) Fixed euro pressure/ozone je

Pump: 2.2 HP two speed Hi-Flow pump

Quiet operating, economical circulation speed
Powerful high flow second speed
Heat System: Go Green with QCA's 1000 kw heater and Heat Recovery System*
Converts to 4 kw when operated at 240V (Electrician required

Weather-Guard™ (patent pending) maintenance-free cabinet (redwood color)
Built-in filter and Ozone ready
12 volt light upgradeable to a Starburst LED (rainbow of colors)
Controls: Balboa electronic topside control for ultimate reliability. A four-button Soft Touch™ control for your pumps, temperature, and light. The Soft Touch™ pad also features LED temperature diagnostic read-outs.
Weather resistant
Lockable flex cover (teak)
Air Flow Control System; a low profile, silent air control. Pulls warm air from within the cabinet of the spa and adds an invigorating flow of air to the water jets
ETL and CE Listed for that piece of mind that your spa has been tested to rigid safety standards
Made in the U.S.A. – QCA Spas, A Step Ahead Since 1966
Warranty: 1 Year parts and 90 days labor
Choose shell color: standard is sierra (textured quarite acrylic). Also available in silver marble (smooth marble acrylic).

Sierra

Silver marble option available
Choose cabinet color: standard redwood, chestnut or gray.

You will receive a brown hard cover when ordering either redwood or chestnut cabinet and a gray hard cover when ordering gray cabinet.
Add an ozonator to this ozone ready spa for even easier spa water maintenance. We also offer the salt system.

Other available accessories include LED light bulb instead of standard white light, a cover lifter or maintenance-free hot tub steps.
Get the best deal on a factory direct hot tub right here at Hot Tub Outpost. Contact us with any questions.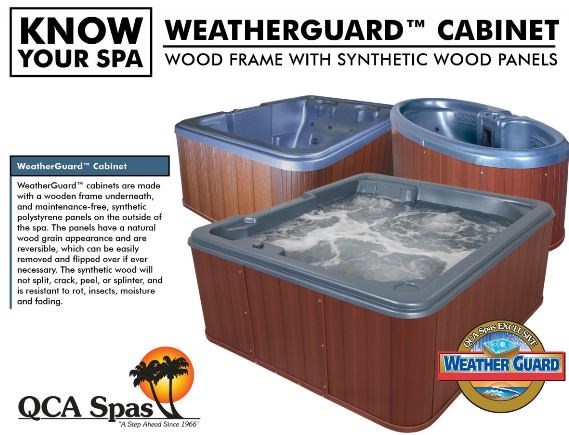 Save
Save
Save
Save