SPECIAL SALE - Sale on Dream Star 2 person hot tub now.
The Dream Star plug 'n play hot tub simply plugs into a dedicated 120 volt wall outlet.
Available in sierra.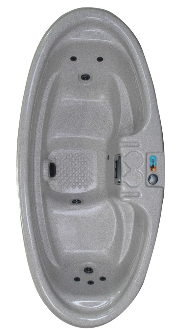 Sierra color

QCA Spas Dream Star 2 Person Spa - 8 Jets
Hot Tub Outpost Special: Includes Free Hardcover Upgrade (instead of standard flex cover)
Easy Setup: Fill - Plug In - Relax

Looking for a hot tub that is easy to use and install? Simply fill the Dream Star plug'n play hot tub with water and plug it into a dedicated 120 volt/15 amp household outlet. No electrician required!
This cozy spa is available in sierra color with charcoal grey jets. Place this spa indoors or outdoors.
Enjoy a solitary soak in comfort or a romantic spa for 2 without any special installation. This luxurious and energy efficient spa lets you relax in a barrier-free oval design with comfortable bucket seats.
Let the warm water (up to 104 degrees F) soothe away stress while the strategically placed spa jets massage your aching muscles.
Deep seating allows shoulders to be immersed underwater while the therapeutic jets and high performance spa pump provides a comfortable, soothing hydro-massage.
The Dream Star comes complete with a Weather Guard ™ maintenance free redwood cabinet, for beautiful design and year round energy conservation.
The panels are reversible panels (perfect if you get scratches) to keep the spa looking new.
The space saving design makes it easy to pass through most interior and exterior doorways.
The size is perfect for 1 or 2 persons at 7.5 feet long x 3.5 feet wide x 2.4 feet deep. This spa features bi-level bucket seats with arm rests for additional comfort.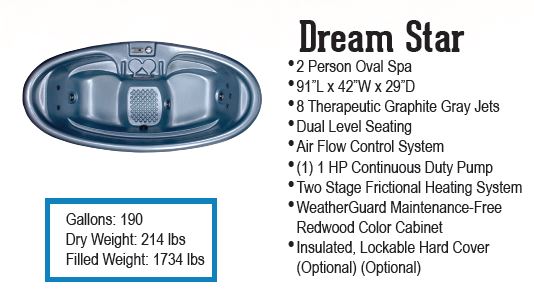 Don't let the low price fool you!
This spa has many built in features for comfort, efficiency and functionality.
The Microban bacterial protected Lucite interior shell help keep this spa low maintenance.
The Dura-Bond four layer reinforcement process gives the spa shell superior strength.
Operation is easy with the top side electronic controls by Balboa. These LED topside digital controls making operating the spa simple and reliable. Control the temperature and pump with the 2 button Soft Touch control and LED temperature diagnostic read outs.
The jets are powered by an energy efficient 3/4 HP hi-flow pump. The air flow control system adds air for a superior spa experience. Save on energy costs with the Dream Star's efficient heat recovery system and save valuable natural resources.
The Dream Star is easy to maintain with automatic filter cycles and freeze protection. The 10 square foot cartridge filter is easy to access via the skimmer.
This 2 Person Hydrotherapy Dream Spa includes the following features:
Plug n' Play

Seats

: 2 Person Spa – Oval Design

Dimensions

: 91" L x 42" W x 29" D

Capacity:

190 U.S. Gallons

Shell Material:

Lucite-Xtra™ Acrylic with Microban and 4 layer Dura-Bond strengthening process

Power:

120Volt/15Amps with 15 foot GFCI protected cord included

Jets:

(8) Total two-toned graphite gray jets includes:

(2) Upper Back Pressure Jets
(3) Mid Back Pressure Jets
(2) Lower Back Vortex Jets - Adjustable
(1) Vortex Foot Jet - Adjustable

Pump:

3/4 HP Hi-Flow pump

Cabinet:

Weather Guard™ Maintenance-Free Cabinet (redwood color)

Energy Savings:

Go Green Heat Recovery System – Exceeds the California Energy Compliance Mandate

Filter: Built in cartridge filter and strainer basket included

Cover: Includes FREE hard cover upgrade instead of the standard soft/flex cover. Ships with Hard Cover.

Ozone ready

- Add an ozonator as an option

Controls: Balboa digital electronic topside control for ultimate reliability. The Soft Touch™ pad features LED temperature diagnostic read-outs.

Weather resistant flex cover included

Maxium Temperature: 104 F

ETL and CE Listed for Safety

Made in the U.S.A.

Other names this spa sells under include Cordoba, Dream Star, Capri,Model 0

Warranty: Manufacturer Warranty – 1 year parts, 90 days labor
Best Value Hot Tubs from Hot Tub Outpost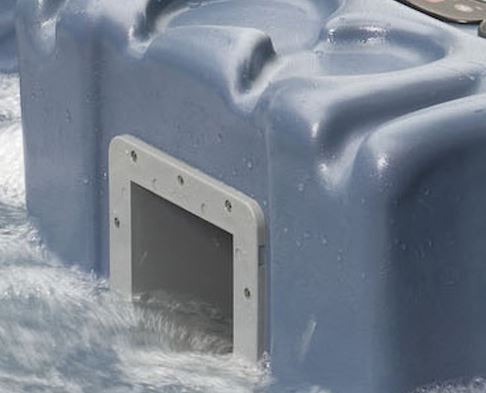 Rest assured that this affordable spa was built by QCA Spas - one of the oldest spa manufacturers in the U.S. The Dream Star is made with high tech components and backed with a one year factory warranty. Why not add an ozonator for even easier maintenance and fewer chemical? Or a Soft Top; an inexpensive way to cut energy costs. Other accessories are also available.
Enjoy this beautiful oval Dream Star spa by yourself or spend quality time with someone you love, whether they are a Gemini, Pisces, Sagittarius or other compatible star sign.
FREE SHIPPING anywhere in the contiguous United States.
FAQ:
Q: Where is the power cord?
A: The GFCI protected power cord is inside of the side panel. When you receive your spa, open the side panel and find the instruction manual along with the GFC protected cord.
Q: What options come with this spa?
A: Select the ozonator to help maintain the water and reduce chemicals. This can also be retrofitted later, but easier to have factory install it for you when ordering. Extended Warranty available - standard 1 year. Add an LED light (standard is without light).

Q: What type of cover comes with this spa?
A: When you order through Hot Tub Outpost, you get a thicker hard cover instead of the the thin flexible cover that comes standard with this spa model. If you prefer the soft flexible flex cover instead, simply add a comment in the comment box when ordering or email info@hottuboutpost.com. The difference between a flex cover and a hard cover is that the hard cover also has a rigid foam panel interior, whereas the flex cover rolls up and does not. Hard covers are recommended for outdoor use.

Q: How do I maintain the water?
A: See our Monday-Wednesday-Friday spa water care program. Start with a bromine starter kit that contains everything you need to get your spa up and running including test strips, bromine tablets, pH plus and minus, protect, refresh and sparkle. If you prefer chlorine instead of bromine, you can get the chlorine starter kit. Both work, but never mix bromine and chlorine.
Please allow about 3 weeks to produce the model of your choice. We ship factory direct! Limited quantities of Quick Ship versions of this spa may be available (only in sierra with redwood color cabinet without ozone).
Have any questions? Email info@hottuboutpost.com or call.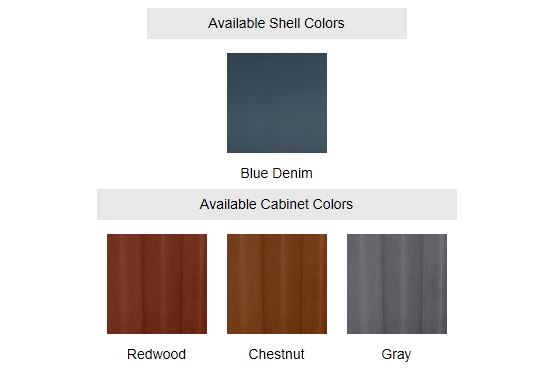 Shell color blue denim is no longer available. Standard color is now sierra.
*GO GREEN! The Dream Star spa utilizes an energy efficient heat recovery system* which saves valuable natural resources.
This frictional heat recovery system*uses the heat generated by the action of the pump and motor to heat your spa. This recycled heat is not vented away from the Model 0 Dream Star as in other spas, but trapped in the dead air space of the cabinet to assist in warming the spa's shell and water. The Dura-Bond strengthening system produces no Volatile Organic compounds that can affect human health and the environment.
*Compare with the 16 jet Silver Star - that is an upgraded Dream Star which also has a 1kw dedicated heater and standard spa light included!
Save
Save
Save