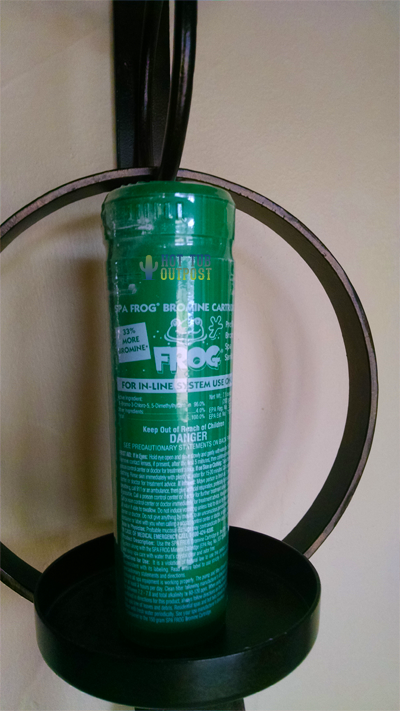 The Frog bromine and mineral spa water purification system is easy to use. This Green 200g container replaces the bromine cartridge in Emerald Spas, Great Lakes spas and other brand hot tubs that use the Frog system.
Don't test the spa water right after hot tub use, because the sanitizer will be at its lowest level then.
These cartridges are easy to replace. The bromine cartridge is green, like a frog - sometimes it's actually purple, but it always contains the larger size 200g amount of bromine than the regular yellow cartridge that has 150g. This item is ideal for use in the in-line Frog feeder systems installed in Emerald, Great Lakes and by other brand hot tubs.
200 gram container of bromine for the Emerald Spas - Spa Frog In-Line bromine and mineral system
Note that the physical size of the yellow, green and purple cartridges are the same, only the yellow has 150 grams of bromine while the green/purple has 200 grams of bromine. They all 3 fit in the same Frog mineral/bromine system.
Less worry with the in-line Frog system that uses a mineral cartridge and this 200g XL bromine cartridge. The system can reduce bromine use in hot tubs up to 50% and create a more fun spa environment.
This 200 gram bromine cartridge lasts longer than its smaller 150 gram cousin, so spa maintenance is further reduced with longer intervals before needing to change the sanitizer cartridge.
Save more by getting the bulk 200g Green Frog Bromine Cartridge 6-Pack
Frog Yellow - Frog Green - Frog Purple - Those are Pretty Colors, What's the Difference?
If you order the yellow 150g cartridge, you will receive the yellow one. If you order the green or purple 200g cartridge, you will receive our green cartridge to match your "Frog" system. So basically, if you need 150 grams of bromine, get the yellow one, if you need this larger 200g green container of Frog bromine, order this one and go longer before needing to replace your in-line or floating Frog cartridge system.
Frog Mineral Systems are used in Marquis, Emerald, Great Lakes, Leisure Bay, Pacific, and Saratoga Spas. They are also found in other brands including Watkins,Caldera, Hot Spring and more.
Need Frog bromine test strips? We've got those too.
Frog Mineral systems are made up of the FROG minerals silver chloride and carbonate used with 1.0 ppm bromine. The SPA FROG mineral cartridge must be used along with the Bromine Cartridge (EPA Reg No. 53735-10) in an EPA registered bromine delivery device such as the in-line feeder system by FROG.
Frog is made by King Technology Inc.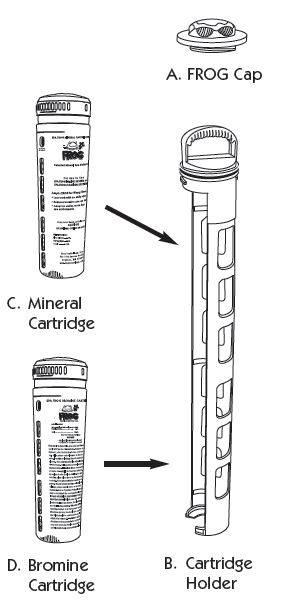 Setting the bromine cartridge level
Start out with the settings as recommended in the instructions (included) and monitor bromine levels daily or before each use with Frog test strips until a 1.0-2.0 ppm level has been reached.
To adjust the cartridge, remove it from the system and turn/twist adjustment cap to the next level. Replace when empty. The basic 150g bromine cartridge lasts 2-4 weeks, but this 200 gram one will last 25% longer!
Hot Tub chemicals can only be shipped within the continental USA.