Trifold spa cover is a rectangular 3 Panel cover and is made with 4"-2" tapered foam. This is the upgraded tri-fold cover with thicker 4mil vapor barrier.
Free Shipping on this spa cover anywhere in the continental USA.
The tri-fold cover comes with up to 8 tie down straps that have key lock fasteners. This durable spa cover is made with galvanized channeling and has steam stoppers included to help prevent heat from escaping.
How to Order: Easy as 1-2-3-4
1. Select Color (see all colors available below)

2. Add Measurements - length and width (in inches) - shape: rectangular or square. Need an odd-shaped cover? Send a picture/drawing to info@hottuboutpost.com for odd-shaped covers for a quote.
Note that trifold rectangular covers have squared corners unless you specify if the outside four corners are rounded - in that case provide a corner radius measurement.
Add your measurmennts in the "dimensions" text box above under where you select your color. Add a corner radius measurement in inches if rounded outside corners are desired.

3. Skirt Length - Provide skirt length in inches = length of flap that hangs down around the side of the cover - (usually around 3-6 inches long)
4. Spa Manufacturer and Model/Type if known, can be added to info box above - we can double check your measurement with our database and will contact you to clarify if needed.
Hot Tub Cover Features:
Our custom made spa cover based on your own measurements is made of high quality vinyl materials. We also offer oversized and freeform spa covers.
4" - 2" Tapered Foam Inserts
Up to Eight Tie Down Adjustable Straps with Child Proof Locks and Keys - you can send a drawing with strap locations if particular locations/numbers are required.
Upgraded Thicker Vapor Barrier 4 mil Heat Sealed Poly Vapor Moisture Barrier to prevent waterlogging

Upgraded 1 1/2" foam cores (or upgrade further to 2 lb. foam for $35)
Reinforced Galvanized Channeling For Support
Two Steam Stoppers
Top Stitched for Added Strength & Quality
Two Handles with upgraded Rubber Hand Grip included

Available in 14 Colors (select color by dropdown menu above)
Appx. R-Value of 18.4
Energy Efficient Polystyrene Inserts


Comes with 2 handles and up to 8 tie down adjustable straps. Need more handles or straps? They are $10 ea. and can be selected in the dropdown menu above or contact us for assistance.
Contact us by phone or email for any other custom needs. Handles and Straps are placed by the manufacturer unless locations are specified by emailing us prior to ordering.
Up to 8 straps with locks are included - more can be purchased in the dropdown box above. Select NONE and the standard issue will be included. If you do not want any tie down straps, contact us prior to ordering so we can confirm with you.
Unlike cheap covers on the market, this cover also includes inhibitors in both the vinyl and thread to prevent premature aging of your spa cover.
Spa Cover Color
Select your cover color in the dropdown menu above.
Want a different color from our expanded color selection below? Email us at info@hottuboutpost.com for current custom color quote.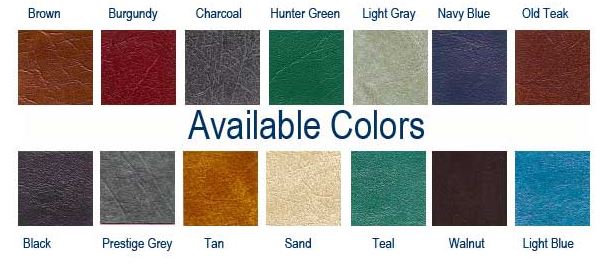 Insert your cover's measurements above to get us started.
Please note that spa covers are custom made items and cannot be returned unless there is a cover defect, so please double check your measurements.
Shipping Time
Please allow 3-4 weeks for custom cover production and shipment. Each cover is handcrafted to your specifications and desired color.
Other Measurements to Add into the Dimensions Box above when ordering:
SKIRT LENGTH: This is the length of the flap that hangs down around all of the sides. It is usually about 4-8 inches long, but we will make it to whatever length you prefer or length of your existing cover's skirt length. Just add skirt length: x inches to the dimensions box above (under the color selector) when ordering.
We also offer all other types of spa covers from round to rectangular. This item is for a Tri-Fold spa cover with 3 panels.
TriFold Cover Types
When ordering a Tri-Fold cover, please specify in the comment box if you would like it: one piece (accordian fold), 2-piece with panel or 3 separate panels.
Accordian Style (all 3 panels connected) -- standard
Overflap Style with separate panel (2 pieces connected and third panel separate with flap)
3 Equal sized panels
There is no cost difference between the 3 styles.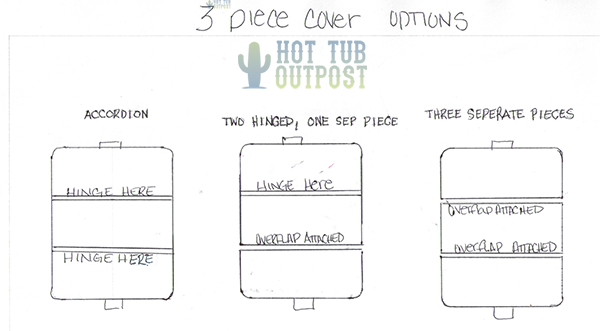 Allow appx. 3 weeks for cover production and about a week for shipping depending on your location. You will be contacted by shipper at the phone number you provide at checkout to arrange delivery.
Additional Straps
Up to 8 straps are included with the trifold cover.
MAXIMUM SIZE
Contact us for custom covers over 102 inches in length. We also can make a walk-on 6-4 trifold cover in any size up to 102" large. For larger trifold covers, contact us with your dimensions for 3 individual walk-on cover sections with 3lb. foam cores and 6 inches thick and flat so it can be used to walk on/across. (Get quote with your dimensions over 102 inches at support@hottuboutpost.com or give us a call). Trifold covers are non-returnable/non-refundable as they are custom made to your specifications and dimensions.
note: cover manufacturer no longer offers velcro to connect the overflap as that stresses the cover material and voids the warranty. Overflap style butts up flat against the next panel with a decorative flap over top of the joint.
Standard Fold
Fold always goes across the shorter side/dimension as shown above for rectangular covers. If a reverse fold is desired (folding across the long dimension, or splitting the panels in 3 long panels) - must specify REVERSE FOLD in order detail box above.
Save